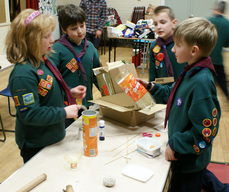 Bradgate Cubs spent their night getting creative with rubbish!

They took part in a recycling challenge to create different models from empty bottles and card board boxes. They made cooking pots, elephants, wells and even a robot! The Cubs worked as teams to make their models.

But this was a challenge! So each team started with £50. They had to buy the materials for their model and then when it was built, sell it back for more money to buy more materials for the next model.

With the aim of learning about recycling, money management and of course having great fun whilst doing it all!