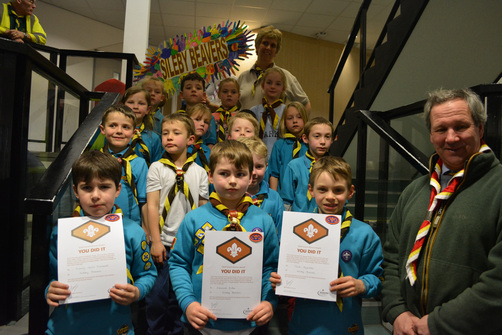 Three Beavers from the District received their Chief Scout Bronze Award over the weekend, and what a fantastic occasion it was!

Jack, Edward and Harvey from Sileby Scout Group each received their Bronze Awards at this years 'Around the world in Archie's day' Beaveree presented by Richard Clowes, High Sheriff of Leicestershire.

When we asked Edward, 8 how it felt to have received his award at Beaveree, he said "It feels really good because I'm having lots of fun and I get to move up to Cubs with the highest badge in Beavers!" Edward, 8 told us about one of the Challenge Badges he completed to get his award: "I loved the Fitness Badge because we had to run around and do lots of exercises!" Harvey, 8 also said "I got all six badges onto my uniform, I'm really happy!"

Beavers take part in a range of exciting challenges to complete their Chief Scout Bronze Awards, so being presented with the award at Beaveree was the icing on the cake as their last official event before moving up to Cubs. Congratulations to Harvey, Jack and Edward as they embark on the next step of their Scouting adventure!