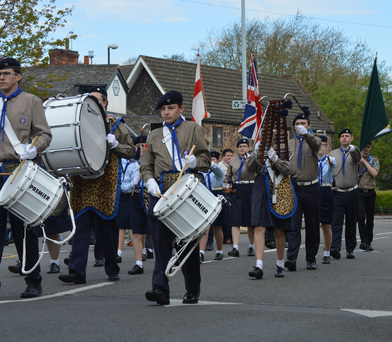 The sun shone blissfully on Scouts from across Charnwood District last Sunday as they took part in a
parade to honour St George, the patron saint of England. St George was also adopted as the patron
Saint of Scouting by Lord Baden-Powel, who said that he was "typical of what a Scout should be".
Lead by Syston Marching Band, the parade of Beavers, Cubs, Scouts, Explorers and their Leaders
attracted the attention of many locals as they walked with pride through the village of Mountsorrel.
They filled the streets with an incredibly joyous atmosphere as proud parents stood by to support
their young people, before stopping at Soar Valley Leisure centre for a service to commemorate St
George and renew the Scout Promise.
During the service Thomas Cameron, an Explorer, was honoured to be presented with the Queen
Scout Award! There were also three Chief Scouts Gold presentations and a Chief Scouts Platinum
award, which all require dedication and commitment by completing challenging expeditions,
volunteering and developing physical skills.
See all the pictures from the day here!