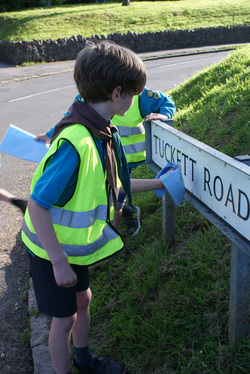 For community week the Beaver Colony at Woodhouse Eaves took to the streets for their project. The Beavers went out into the community with buckets of soap and water, cloths and water guns to clean the street signs along the village street.

They worked hard cleaning the years of dirt and grime to make the signs look brand new! After all the signs were cleaned it was time to play, and to end the night a new Beaver was welcomed into the family of Scouting when he made his promise all by him self!

Well done Beavers for all your hard work in the community!