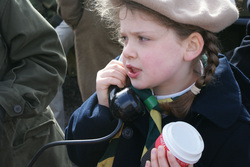 Charnwood District Scouts stepped back in time to celebrate St George's Day. 250 Young People and Adults took to the Great Central Railway for a 1940s themed day. The Beavers, Cubs, Scouts & Explorers all came along to the event dressed as evacuees, complete with gas mask boxes and cardboard masks.

Throughout the day they had the opportunity to ride the train to and from Loughborough, with a variety of 1940s themed activities on offer at both Loughborough and Quorn & Woodhouse Stations.

Winston Churchill and Field Marshall Montgomery even put in an appearance to explain the effects of the war on the 'Home Front'.

Many of the younger 'evacuees' had never travelled on a train and this was a new adventure. While on the train they had the opportunity to write a letter home, as many evacuees did. Many of the young people really got into the spirit of the activity letting their imaginations run wild about their first train ride and what they could see out the windows. Charles and Cyril from Rothley Cubs thought that being an evacuee would have been "an adventure but quite scary".

There were costumed volunteers on hand to answer many of the questions and to demonstrate skills including drill with the Scout Bands from Syston & Thurmaston, Bomb Disposal, Home Guard and volunteer Fire Service. There were also toys and games from the era.

Rationing struck many of the young people and they had the opportunity to see some of the portions allowed per week as well as sample game stew after learning how to prepare freshly caught pigeons, pheasants and rabbits.

Charlie (7) from Barrow upon Soar thoroughly enjoyed the day, he found it really interesting: "Listening about the world war and [that] where people had to join the army, people were needed to help run the railway. I would have liked to have helped with the trains."

Cub Scout Leader, Jackie Sheradon, from Syston said "It's been really interesting and nice to see all the young people dressing up as evacuees. We even had a Beaver at Loughborough this morning asking "will I really never see mum or dad again". We had to tell him we are only pretending you will see mum and dad later. Its been especially good for the young people, it's getting them aware of what happened during wartime. It must have been a scary time to go to a new family – total strangers".

County Commissioner and ex-District Commissioner for Charnwood Carol Black was full of praise for the day. "Doing things differently I think is what we've done today. Been very inspirational for some of them and a real mix of different groups".

District Commissioner for Charnwood Paul Smith "What a fantastic day it has been and to see so many young people out enjoying it. Seeing it all come together has been fantastic. Carol has done 99% of the organising, we have all had our little bit in supporting it. We would like to do something different again next year…"

Thank you to all the team who put this wonderful day together, and thank you to Great Central Railway for hosting the day.

---