Ever wondered how it feels to spend a weekend Gliding? Well the Scouts of 1st Mountsorrel were
the first group in Charnwood to take part in a magnificent weekend camp in the Gliding Centre at
Husbands Bosworth Airfield! The Centre is associated with the Air Scouts of 1st Kilworth Scout
Group, which provides young people with the chance of taking part in various flying activities,
including the exhilarating sport of gliding.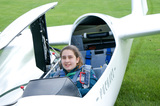 When we arrived on the Sunday morning to meet the Scouts and their Leaders, they were a
bundle of excitement; eager to inform us of the incredible activities they'd already taken part in.
Rachael, 13 told us about how she got to use a flight simulator: "We basically had a remote
control and on the computer screen there was a helicopter… it was helping us to learn how to
control something and how to use the gears and gliders; it was good fun, it wasn't easy to use
but it was a good challenge."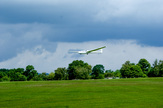 We also had the privilege of watching each of the Scouts launch into the air as they had their very
first gliding experience. The nervous energy of the Scouts was evident as they left the ground, how
ever the massive grins across their faces as they landed portrayed sheer joy! Thomas, 11 excitedly
told us of how it felt to be gliding in the air: "You just feel complete weightlessness, it was
amazing!" Gary, Scout Leader of 1st Mountsorrel told us why he would definitely consider doing
another gliding camp in the future: "With all the facilities we've got it works really well; it's
something we've not organised before. It's been fantastic; really, really good!"


Visit
www.theglidingcentre.co.uk
for more information about how to get your Scouts involved in a
fantastic weekend gliding experience!