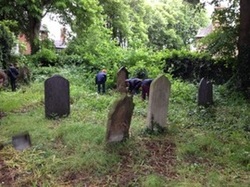 Inspired from a suggestion by a Scout to 'help their local community', our churchyard was recently given a good tidy up. In spite of it being one of the dampest and coldest days of the spring half term holidays, around a dozen Syston Scouts and some sisters and a couple of mums eagerly
awaited their delegated task.
Wayne Evans, Scout leader and his wife were organised with equipment and the team set to work. Paths were revealed, even the secret path from Rectory to Church can now be seen, brambles attacked, wildflower seeds sown and two insect hotels erected. After a final clear up of their cuttings, they were pleased to look back proudly on the difference they had made. Their enthusiasm, hard work and respect they showed for this special space in their community is to be commended. In a time when the youth of our society seem always to be knocked, Well Done Scouts and helpers. Many thanks to you all. Brian Middleton, Church Warden, and St Peter & St Paul Church. Wayne Evans, Scout Leader said: "There were approximately 12 of us there on the night. The spades, forks pruners etc…were donated by a company called Fiskars Ltd who manufacture Gardening equipment and the weedkiller and the two Insect Hotels which we put up in the
churchyard were donated by Doff Portland Ltd. In total we estimated we moved approximately 500Kgs of branches, weeds and dirt from the path, all of which we took away with us. We uncovered approximately eight headstones that had been covered by weeds and ivy and we
sowed a few wild flowers. We are very grateful for the generous support of Fiskars and Doff Portland
Ltd."
News Story and Photo From Syston Scout Group Website