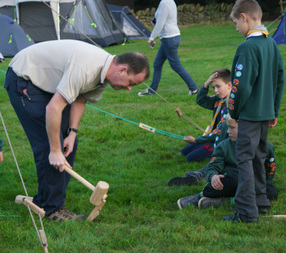 Over 70 Cubs and Scouts pitched up at Oaks In Charnwood Campsite for the District challenge
weekend. With smiles on their faces and the determination to win they set about getting their tents
up in an effort to be the best team on site.

As morning broke the Cubs and Scouts prepared for a six mile challenge hike around Charnwood
Forest. Nearly 300 Beavers from every Colony in the District, and a few special guest Colony's from
Melton District descended in a sea of blue to the camp site ready and excited for the activities to
come!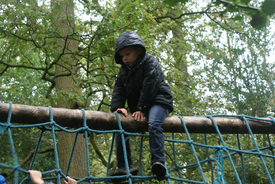 The Cubs and Scouts set off on their challenge hike facing various different challenges along the way
such as making a capital T out of blocks, passing through a hoop without touching the sides and map
reading. Max from Barrow Scouts said "We had to try and go through the hoop without touching the
sides, it was hard to do, but it was fun!"

Meanwhile, the Beavers where on site taking part in a fantastic range of activities, from parachute
games to the Black Hole. Aleck from Rothley Beavers said "I loved the black hole, it was pitch black
and I just went round and round." Once all the activities had finished the Beavers went to the
campfire circle where Sandy, the Assistant District Commissioner for Beavers, lead the evenings
activities with a host of campfire songs, including the very popular 'Poo song!'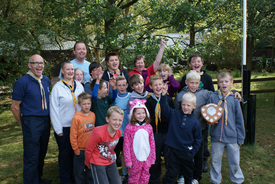 During the camp fire an astonishing 54 Beavers where invested into their Colony's in front of all the
other Beavers, Leader and parents. Max from Syston Beavers, celebrated his 7th Birthday around
the campfire as all 300 Beavers sang 'Happy Birthday!' to him. Max said "It feels really good to have my
birthday at Beaver (Fun) Day." When he was asked what the best thing about having his birthday on
camp was, Max told us"Going into the wood and building a den and fining a mini castle in there."

The Cubs and Scouts also had a campfire, as well as the opportunity to cook their own dinner. Some
brilliant meals where created from Mexican chicken, wraps, noodles and pasta dishes. One group
even set out a fancy table cloth and had a candle lit dinner!

A fantastic weekend was had by all, and on the Sunday morning the winning team who pulled out all
the stops to overcome every challenge was the 40th Leicester (Anstey and Newtown Linford)!
Congratulations to you and well done to the other groups who took part in this amazing event. We
would also like to say a massive thank you to the leaders who put an immense amount of effort to
make this weekend so special, and to the Explorers for all their help supporting the event.


Click on a photo to be taken to the gallery to see all the photos and camp video.