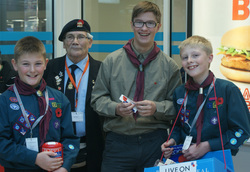 As we remember all the service personnel who gave their lives for us in past World Wars and
current conflicts, Scouts and Explorers from the 77th Leicester (Bradgate) joined together with the
Anstey branch of the Royal British Legion to raise money for the poppy appeal by selling poppies in
Beaumont Shopping Centre.

The Scouts and Explorers were there all day having gained special permission from the shopping
centre to sell the poppies, and with huge success! Each Scout and Explorer who helped had a huge
smile on their face and were proud of what they were achieving, with one Scout saying "I don't
mind giving my Saturday up, the soldiers gave their lives for me it's the least I can do to say thank
you."

Graham Braum, Chairman of the Anstey branch of the Royal British Legion, was very impressed by
all hard work and effort the young people where putting in.

A huge well done to all the Scouts and Explorers for your hard work and effort. We will update you
in the next few weeks as to how much money they all raised.