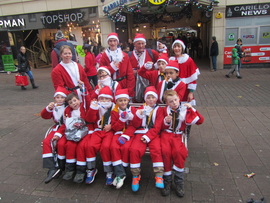 Eight Cubs and one Beaver from Barrow took part in the Loughborough Santa Fun Run. They managed to get the entire way round with out any moans and groans but with lots of enthusiasm, excitement and determination. They all had a fantastic time taking part and want to take part again in next years event.

They where raising money for LOROS and Rainbows. Their Leaders Charlotte and Ruth where both very proud of the young people for taking part and completing the challenge.

Well done to the Cubs and Beaver (and the leaders!) for taking part.