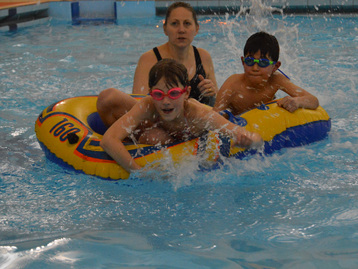 Scouts from across Charnwood made a splash at Loughborough Leisure Centre over the weekend
for their annual District Swimming Gala!
All four sections took part in this year's competitions, ranging between width and length front-stroke to rubber dingy relay races, allowing both swimmers and non-swimmers to participate. A
fantastic eruption of excitement and noise exploded during each race from spectating Leaders and
Young People, creating a wonderful atmosphere of team spirit and competitiveness! Harrison, 6
from Anstey & Newtown Linford Thursday Beaver Colony told us why he enjoyed taking part in the swimming gala: "It's
lots of fun because I get to race in front of my group!"
Alongside swimming competitions there were also silly teamwork games, such as collecting the most rubber ducks into a dingy. Hannah, 10 from Quorn Cub Pack told us: "One person kicked while the other scooped the ducks. It was very energetic trying to go in the right direction; it was really fun I love swimming!" Ryan, 12 from Barrow Scout Troup told us of one of the competitions he took part in: "We did a game with a dingy and had to paddle with our hands to the other side to collect hoops, starting with small then bigger ones. The way we had to paddle with our hands was fun!"
Richard, 14 from V4 Syston Explorer Unit spoke of how it felt to be involved in this event. "It's a different experience because I don't normally get the opportunity to do organised swimming. It's really fun and active." A brilliant time was had by all involved, ending with a race between the Scouts and Explorers to try and stay afloat as they attempted to sink each other's rubber dingy!
Coming 3rd place for the Beavers competition was East Goscote, joint 2nd place to Woodhouse Eaves and Mountsorrel, and taking 1st place was Rothley. For the Cubs competition 3rd place was awarded to Wolds, 2nd place to Barrow and 1st place was won by Queniborough. For the Scout and Explorer competition, V4 Syston Explorers took 3rd place, Sileby took 2nd place and 1st place was won by Wolds. Massive congratulations to the runners up and winning teams of 2015, and well done to everyone who participated!
To view all the photos please click here!